Pre-Primary Program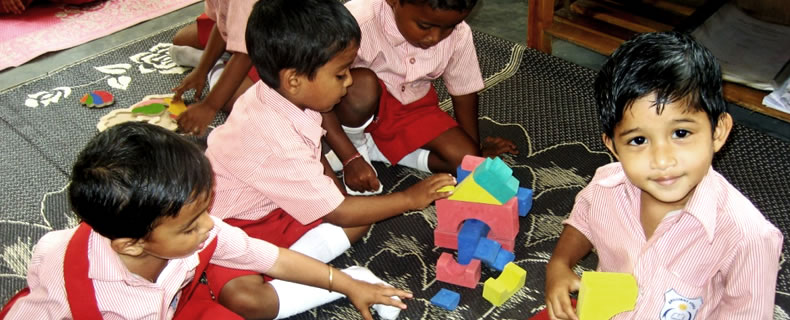 Grades: Nursery, KG I – KG II, Ages: 3 – 5 years
The human brain has an amazing capacity to grow and change throughout life. However, for optimal development there are periods of opportunity, "prime times" during which the brain is particularly efficient. In the first few years, the brains ability to grow and change is especially remarkable. Learning experiences in early childhood have a decisive and long lasting effect on the overall development of the child. Hence, during these formative years in an individual´s life, the greatest care must be taken to building a strong foundation on which rests their future knowledge, understanding, skills and attitudes. Every group of students has its unique needs, and at Brilliant Stars School we recognize and seek to effectively address the requirements of the sensitive age group of 3 – 5 years. Furthermore, in order to ensure that each child receives adequate attention, we limit our student–teacher ratio per class to 15:1.
Teaching Approach
At Brilliant Stars School, our teachers are trained to facilitate children in their self-initiated explorations and social interactions - helping them 'learn how to learn' from their environment and peers.

Unique to Brilliant Stars School, the physical space of its pre-primary classrooms are divided into different Learning Centers such as Blocks, Dramatic Play, Toys and Games, Art, Library, Science, and Sand and Water. Each of these areas includes an arrangement of materials related to their specific theme offering multiple opportunities for children to explore, discover, grow, and pursue their own interests along with their friends. These areas address the social/emotional, physical, cognitive and linguistic development of each child, reinforcing concepts which are being taught to him/her formally in class. We are the first and only pre-school in Tripura to organize our classrooms as learning centers.
Curriculum
Brilliant Stars School uses internationally developed pre-primary curriculum for Math, Science, Character Development and English:
Hidden Gems
We use the Hidden Gems series of books, developed by the Badi Foundation in Macau, for Math, Science and Character development. The entire series aims at emphasizing on the development of character in children by linking the various concepts learnt in each subject to their practical, moral and behavioral implications.
Jolly Phonics
For the study of English, we use the renowned Jolly Phonics program developed in England. Here, children are taught to read and write through an early systematic phonics program developmentally appropriate in its approach. Children are first taught the 42 main sounds of English instead of the alphabet names, after which they are taken through stages of blending these sounds to form words and then reading. At the same time they are taught to write by identifying the sounds in words and relating the letters to those sounds. All this is done with the help of a host of creative teaching aids and materials.
 
Subscribe now and receive updates
on our school activities